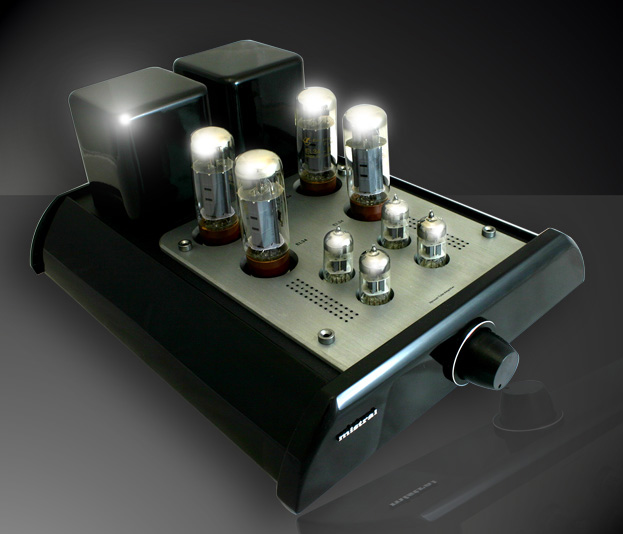 Vacuum Tube Amplifier
MT-34 Vacuum Tube Integrated Amplifier

Frequency Response: 20Hz~25kHz
Tube Compliment: EL34x4 + 12AU7x2 + 12AX7x2
Power Output: 40W x 2
Output impedance: 4 or 8 Ohms
Inputs: AUX and CD
THD: <1% at 1kHz
Signal To Noise Ratio: >90dB
Input Sensitivity: 300 mV
Input Impedance: 100 kOhms
AC power: 110V or 220V~240V 50/60Hz
Product Dimension (WxDxH): 300 x 460 x 200 mm
Product Weight (Net): 17.5 kgs
MT-34 is a 40 watt per channel stereo integrated amplifier that features two heavy-duty toroidal power transformers, solid-state rectifiers and oversized Raytheon capacitors for high voltage. One of the toroidal transformers is dedicated for high voltage (335V), while the other transformer is for filament voltage and negative bias voltage.
The preamplifier section of the unit consists of one 12AX7 vacuum tube for each channel set in a shunt regulated push-pull configuration. The power amplifier section of the unit features one 12AU7 and two EL-34 tubes in shunt regulated push-pull arrangement for each channel. Fixed biasing is incorporated for each EL-34 vacuum tube. The compliment of tubes for the power amplifier section are Chinese Shuguang branded valves, which have been noted to be good performers by many tube enthusiasts and are based on a classic German design that is known for its low mechanical noise.
Around back, the unit features well-made binding posts with taps for 4ohm and 8 ohm loads, two high quality sets of RCA inputs with a toggle switch to select each input and a detachable power cord and power switch. Looking at the front, there is simply a rather large yet elegant volume control directly in the center of the panel. The look is clean and sophisticated with a solidly built chassis that is double layered in a high gloss black finish.
The unit is sturdy and really pleasant on the eyes with a demure footprint for such a hefty piece. Also included is a cage that nicely protects the tubes and little fingers, but lets the beauty of the tube glow shine through, something that every tube lover covets.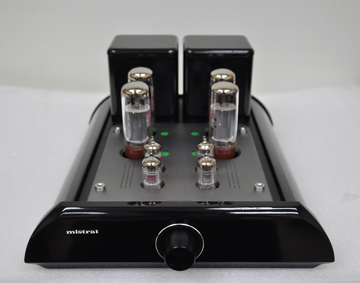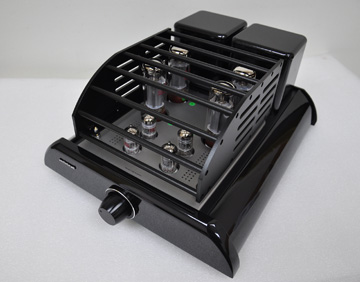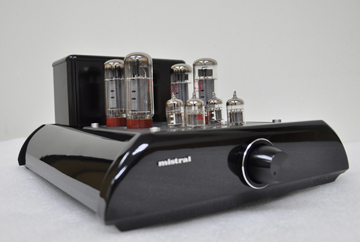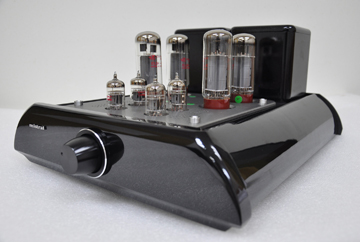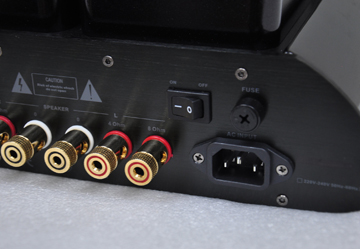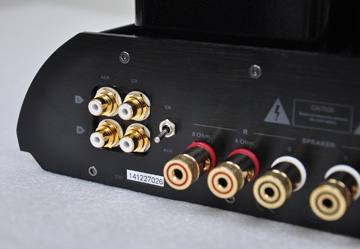 | | |
| --- | --- |
| Frequency Response: | 20Hz ~ 25kHz |
| Tube Compliment: | EL34x4 + 12AU7x2 + 12AX7x2 |
| Power Output: | 40W x 2 |
| Output impedance: | 4 or 8 Ohms |
| Inputs: | AUX and CD |
| THD: | <1% at 1kHz |
| Signal To Noise Ratio: | >90dB |
| Input Sensitivity: | 300 mV |
| Input Impedance: | 100 kOhms |
| AC power: | 110V or 220V~240V 50/60Hz |
| Product Dimension (WxDxH): | 300 x 460 x 200 mm |
| Product Weight (Net): | 17.5 kgs |
Copyright © 2000-2018 ADS World Wide. All rights reserved. ICP备案:
粤ICP备06103225-1号
本站部分图文来源网络,如有侵权问题请通知我们处理!